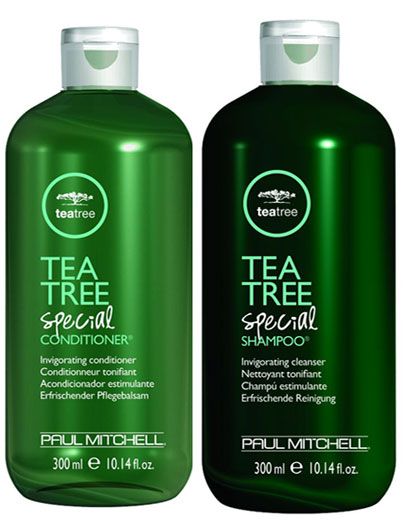 #TEAM DC product of the week this time is from our ethical friends at PAUL MICHELL. TEA TREE SPECIAL SHAMPOO AND CONDITIONER.
TEA TREE SPECIAL SHAMPOO
WHAT IT DOES 
Special ingredients in the deep  cleansing shampoo uses natural tee tree to rid hair of impurities leaving each strand full of vitality and lustre.
HOW IT WORKS
Natural tea tree , lavender and peppermint invigorate the scalp and laves hair feeling and smelling great
ADDED BONUS
The refreshing tingle wakes up weary spirits
TEA TREE SPECIAL CONDITIONER
WHAT IT DOES
Reconditions, repairs and protects hair while moisturising strands and soothing the scalp.
HOW IT WORKS
Soy proteins, panthenol, vitamins E and shea butter repair and protect while willow bark helps sooth troubled skin.
ADDED BONUS
Tea tree, peppermint and lavender leaves the hair smelling great.
*PAUL MITCHEL  ingredients are all ethically sourced and from production to bottle have NO ANIMAL TESTING
https://www.paul-mitchell.co.uk/our-products/tea-tree/
Get in touch today and we can book you an appointment to give you professional advice on your hair care.