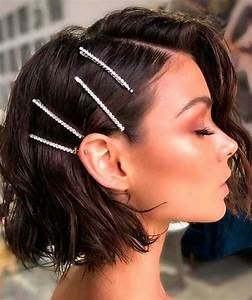 At Danielle Carr hairdressing we are loving some of the February hair trends for 2020. From the glam hair accessories to the warmer colours of winter, here are some of our faves.
Hot Chocolate Locks
Similar to the beloved winter beverage, hot chocolate hair colour is deep, rich, and perfect for the season.
Bedazzled hair clips
Hair clips have blown up recently and they're here to stay. Think of these bedazzled hair pins as the older, more sophisticated sister of the clips you used to throw in your hair when you were 6. Whatever length your hair is, you can always pin a couple in to spice up your look.
Beach Waves with Straight Ends
Yes, it might be winter, but that doesn't mean that you have to give up your beachy waves. In fact, it's the perfect style for the season because it gives you that "I woke up like this" look that you see on Instagram all year round. Spray in some system professional instant reset dry shampoo and scrunch your hair for a textured, effortless look.
WINTER HAIR TREND:
Partly Braided Ponytail
A twist on an otherwise basic ponytail this winter? Adding in a partly finished fishtail braid. It's a look you probably haven't seen yet, but trust us, it's going to be all over your Instagram and Facebook feeds before you know it. Work a texturizing spray through your hair to give it hold and volume.
Get in touch today and we can have you looking your best despite the weather https://daniellecarrhairdressing.com/